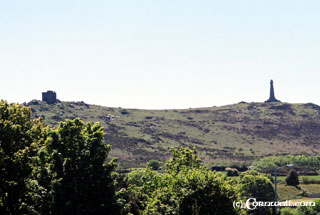 Along with Camborne, Redruth was the centre of the industrial heartland of Cornwall during the industrial years. Redruth has a long history in mining dating back to the Bronze age as evidenced with one of the largest Neolithic settlements at Carn Brea. Strategically Carn Brea (see photo) is very important having a commanding view over the surrounding area and so a hill fort was also built there.
The name Redruth derives from Red Ford, red being the colour of the river during some of the mining processes but in typical Cornish fashion it is the other way to you expect as rhyd = ford and ruth is red. Locally it is pronounced re Druth not Red Ruth.
Redruth has some impressive buildings to compliment it's proud industrial traditions and good solid granite houses. With its central location, it is also an ideal centre to stay at to make use of the exciting North coast beaches like Portreath or visit some of the West / South or South East Cornwall sites.
Local Attractions include the Cornish Mines and Engines