Camborne like Redruth was the centre of mining for the world in the industrial period. The name Camborne is probably derived from the Cornish / Celtic words Cam (crooked) and bryn (hill).
The inland town was previously a village built up around a large number of mines including Dolcoath, Wheal Jane and South Crofty. South Crofty was the last Cornish Tin Mine to be open, finally closing in 1990 due to the lower price of tin imports from other countries. The expertise that grew up in hard rock mining in the Camborne area is evidenced in Camborne School of Mines that was highly regarded in the mining industry, now being part of Exeter University and based at it's Penryn campus, that offers the only mining degree in the country.
Camborne's local heros include Richard Trevithick who invented the first high pressure engines that led to the first locomotive nicknamed the Puffing Devil (remembered in the local folk song Going up Camborne Hill coming down only for George Stephenson to perfect the idea into the first train 25 years later in the North East of England.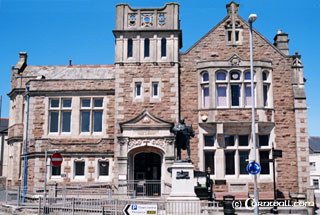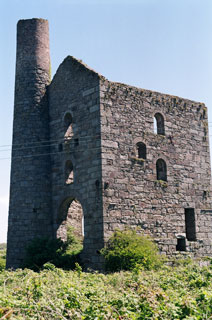 Trevithick is remembered each year with a Trevithick day which features a parade of Steam engines lovingly maintained for such occasions including a replica of the Puffing Devil. See Trevithick Day Website
There is also a Trevithick society dedicated to that period See Trevithick Society Website for more information and his statue is outside Camborne Town Hall.
Camborne still has a School for Mines, although the students will have to go elsewhere to work.
Camborne is centrally located and is a good base for a holiday as beaches including Portreath or Hayle are only a few miles away. The town itself has a variety of shops and amenities.
Camborne / Redruth area Hotels
Camborne Cottages and Holiday Homes