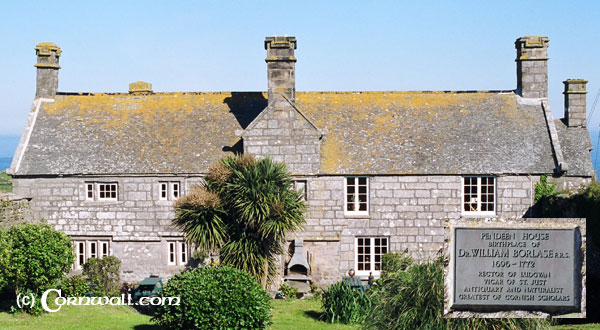 Pendeen is a small village to the North of St Just on the West Coast, in an area that includes a number of other villages / hamlets. These include Trewellard, Botallack, Carnyorth, Boscaswell and Bojewyan. This area is also part of the Penwith Moors that reach as far as St Ives in the North.
The area of West Cornwall is steeped in history and examples in Pendeen include Chywoon Castle (an Iron Age Hill Fort pronounced Choon), Chywoon Quoit and Pendeen Fogou (pronounced Foogoo), (see picture) although the latter is on private land at Pendeen Manor House farm, so permission must be given by the owner. There is also a small fishing cove, Boat Cove nearby and Portheras beach is a nice sandy beach.
William Borlase a noted Cornish Historian born in 1695 lived in Pendeen (Manor)House (see picture) and he wrote 'Antiquities, historical and monumental, of the County of Cornwall' the first studies of the local historical sites.
This area is ideal for people wishing to have a quiet holiday with the scenery of the West Penwith Moors between Pendeen and St Ives being amongst the most dramatic in Cornwall.
Local attractions include Geevor Tin Mine Museum , Levant Mine and Beam Engine and Wayside Museum Zennor.