Many of Cornwall's villages were transformed during the industrial period, but none more so than St Austell.
After the discovery that the surrounding area had a rare type of granite that decomposed in a way that made china clay, the area became heavily industrialised. The mounds of waste materials gave the landscape new white hills resembling snowy white peaks from a distance. The clay was exported from nearby ports such as Par and Charlestown (named after Charles Rashleigh a local businessman who organised and developed it.) Charlestown itself has a small dock with two tall ships that in addition to making a beautiful picture, also gives the visitor some insight how this port would have been in the 19th Century.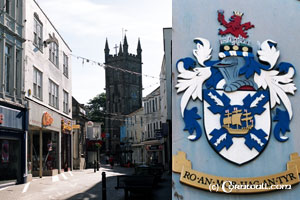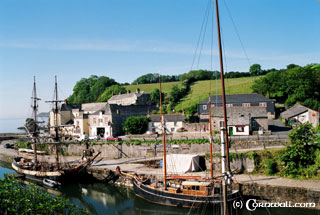 Mining brought wealth to St Austell and some of the buildings are still in evidence today. As always, not everyone experienced the wealth and in 1913 there was a famous strike as immortalised in an award winning play by Tom Clarke Stockers Copper.
Unlike tin mining, China clay production still continues at St Austell , but not on the same scale as previously.
This striking landscape has recently been developed further by the futuristic looking Eden Project that has now brought tourists and day trippers flocking to see it.