Padstow is situated on the North coast. In recent years it has become best known for Celebrity Chef Rick Stein's restaurant as depicted in his cookery TV series Sea Food Oddessy. There are a number of other good restaurants that cater for visitors who also enjoy the nightlife after a hard day's sailing in nearby Rock and then travel to Padstow by a river taxi.
Padstow is a typical Cornish fishing village that combines a picturesque tranquillity with a working past.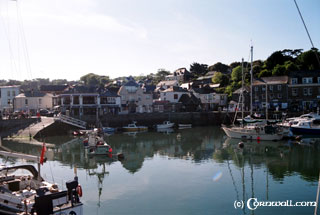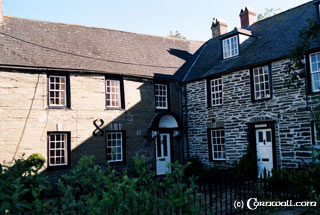 Padstow also has a renowned folk festival the Obby Oss celebrations each May 1st with parades throughout the day around the town decorated in flowers. In total, there are 3 Oss, the Childrens, the Red, Old Oss and the New Blue Ribbon Oss and there is a friendly rivalry between the 2 adult ones, with the Padstow folk wearing the colours of the Oss they support. The Oss wear a distinctive costume and spin and run through the crowded streets, baited and followed by the people who sing the traditional song accompanied by drums and piano accordions.
Padstow is a delightful place to stay and a must to visit.