Mousehole (pronounced Mauzel rather than mouse hole) is a picturesque fishing village that in recent times came to the country's notice after the village Lifeboat was sunk trying to rescue a boat with the crew losing their lives. This shows that even today behind these picturesque places, there are some harsh realities.
Mousehole has a colourful history in that it was torched by The Spanish during the times of the Spanish Armada. One of the oldest buildings in the village is Keigwin (as pictured bottom right) named after the notable family who lived there. Keigwin and its 2 neighbouring buildings are believed to be the only surviving buildings from that raid with Squire Jenkyn Keigwin being killed during that day. In the early 19th century at it became a pub, the Keigwin Arms and it is still locally referred to by that name although it is once again a private residence.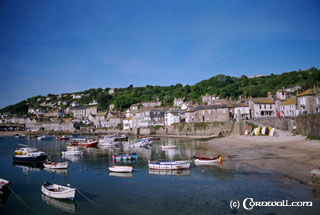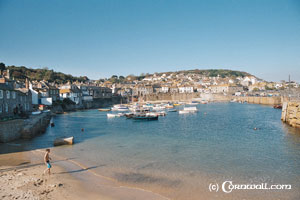 Over the Christmas periods, as with many other small harbours Mousehole puts their Christmas lights on the boats and people travel from neighbouring areas to view them.
Mousehole is very popular with tourists, but as with other small villages, it is advisable to leave the car outside as the roads are very narrow.
A good time to visit Mousehole is for the Sea Salts and Sail festival in Mid July, which celebrates local fishing culture including brass bands and male Voice Choirs.