Minions is a small almost one street village within the Southern part of Bodmin moor that has some excellent sites nearby. The Hurlers are a collection of 3 Bronze Age stone circles. The Pipers are two Bronze Age standing stones and the Cheesewring is a natural but no less impressive rock formation formed by glaciation and erosion which resembles flattened cheese and has a pub / hotel named after it.
Also close is Rillaton Barrow a large burial bronze age chamber where legend has it a man would wait with a golden cup to give water to thirsty travellers. In the 18th century a gold cup, now known as the Rillaton cup was found there. It is dated at being 3,000 years old and possibly of Greek origin as it is similar to ones found in Mycenae and proves how advanced trade was in those times. At one point it was used by King George V to hold his cufflinks, but it is now in the British Museum, with a replica in the Royal Cornwall museum in Truro.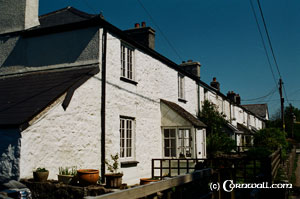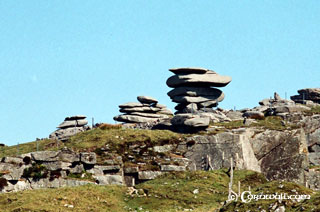 In common with most of Cornwall, the beautiful countryside has an industrial past with mines and quarries closeby. Once there was a railway to take away the ore, but now this is a good footpath for viewing the area. The Mining industy has left its mark and the Houseman's Engine House is a good restored example.
Other places of interest include St Donierts stone near St Cleer, Dozmary Pool which is said to be the lake of King Arthurian legends. Also nearby is a church of St Neot and Warleggan whose name was used in the Poldark novels.