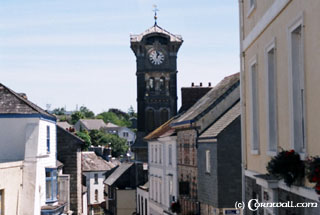 Liskeard has a long history that can be dated back to the Domesday Book in 1086. Like many other Cornish Towns, Liskeard is a market town that mostly developed during the industrial period.
It is now the centre of the Caradon district of South East Cornwall and so has the appropriate council offices with two sets of public buildings - a Guildhall and a Public hall. Liskeard also has some stunning Celtic crosses.
The town prides itself by having some good restaurants and pubs within its narrow streets that make people glad they visited this part of the world. As with many Cornish churches the church of St Martin (second largest in Cornwall) was rebuilt around the 15th Century but with signs of Norman origin. There is also a notable well now known as Pipe well, but previously known as "The Well of Lyskiret" or "The Well of St Martins" which is said to have healing powers.
Liskeard is a also a good base to visit some of the other resorts and attractions such as the Eden Project. Also closeby is Sterts Theatre.
The local Tourist office is combined with a small museum.