Cadgwith is located on The Eastern side of the Lizard Peninsula. It is a beautiful fishing village with a number of traditional cottages that seems to have ignored the onset of the modern world. Being on the eastern side keeps the village sheltered form the prevailing south westerly winds, although easterly winds can make the sea very rough there.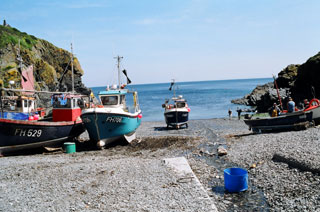 Fishing in Cadgwith used to be a larger scale when there was an abundance of pilchards and the villagers depended on it for their livelihood. Today the fishermen still go out in their small boats from the shingle cove to catch crabs in the time honoured tradition and visitors can soak up and enjoy this atmosphere in beautiful surroundings. The village has a small pub and there are a number of cottages to hire and a few bed and breakfasts.
There are two beaches, the larger of which known as Cadgwith Cove or Big Beach is where the boats go out from. To the other side of the rocky promontory known as the Todden is a smaller beach (Little Cove) with more of a mixture of sand in it where people can bathe.
One other noteable feature on the coastal path is where a cave has collapsed creating a sea blow out when the tide is in. This is known locally as the Devil's Frying Pan.