Boscastle is a picturesque village on the North Coast of Cornwall. It is set in a narrow steep sided valley where the rivers Valency and Jordan meet. The steepness of the valleys can lead to high water flow through the village in periods of high rainfall as happened in the terrible flood of 2004.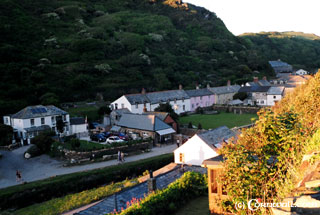 Boscastle has a historic harbour, which is the only one on this stretch of coast for 20 miles, being used to import coal and export slate during the past. It was built by Sir Richard Grenville in 1584. There is also an interesting church and a lot of the cottages are very old.
There is also a Museum of Witchcraft.
The name Boscastle derives from the Botreaux Castle (pronounced locally as But'ry) which once overlooked the area, but only a few ruins remain.
The village also has a connection with Thomas Hardy who met his first wife Emma Gifford, while staying there and much of his book A Pair of Blue Eyes is based in the area.