Altarnun is a picturesque village on the edge of Bodmin moor. The name of the village is derived from the impressive church dedicated to St Nonna (the mother of St David the patron saint of Wales) which was rebuilt in the 15th Century over an older building. The Church stands on the rise of a hill and near a historic 15th Century packhorse bridge that crosses the river Penpont. The church has a very old cross in the yard and a short way up the hill is St Nonna's holy well. Other features of the village include, a village store formerly a historic inn called the Ring O Bells, a Methodist Chapel and Corn Mill.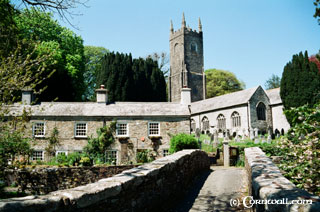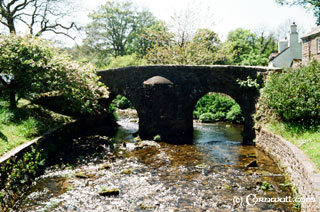 Nearby villages include Five Lanes with another old inn now called The Kings Head Hotel (bottom left).
In nearby Trewint there is the Wesley Cottage Museum, a small cottage where John Wesley stayed in the 1840s during his preaching mission in Cornwall and now a place of pilgrimage. See picture below.
Also in the vicinity is a stone circle (not quite complete) called the Nine Stones.